This piece is approved to use with clients.
Pandemic Pressures Municipal Bond Issuers
KEY INSIGHTS
As the market continues to digest the long-term impacts of the coronavirus, expect significant rating actions in the form of downgrades and outlook changes.
Negative headlines, as well as politicizing and posturing around potential recovery money, are creating additional uncertainty.
Nonetheless, the municipal debt market is likely to remain high quality, with low defaults and high recoveries relative to other fixed income segments.
---
As the municipal bond market continues to digest the long‑term impact of the coronavirus pandemic, we expect significant credit rating agency action in the form of downgrades and negative outlooks. From late March through early May, there have already been almost 800 negative municipal rating actions by S&P, mostly in the form of outlook revisions to "negative" and, to a lesser extent, downgrades.
MUNIS LESS LIKELY TO DEFAULT OVER TIME
(Fig. 1) 10-Year Average Cumulative Default Rates1 1970–2018
As of December 31, 2018.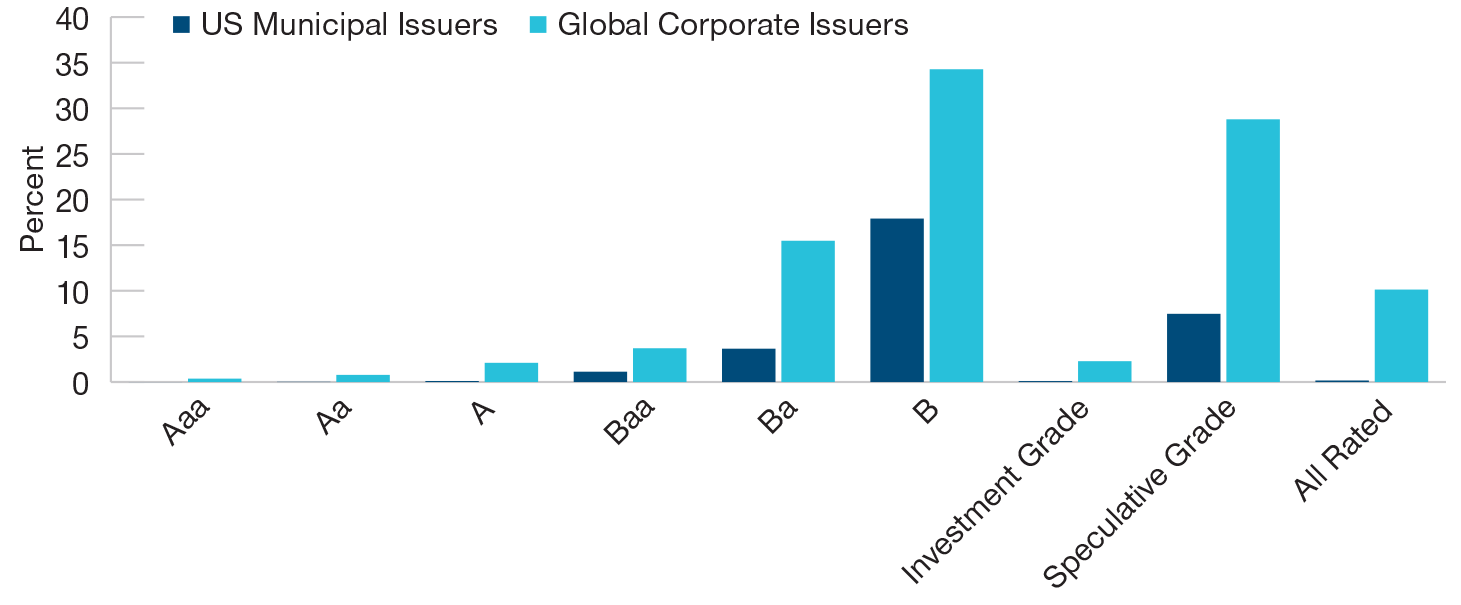 Source: Moody's Investors Service (see Additional Disclosure).
1 Default Rate: Percentage of issuers that did not make scheduled payments of interest or principal.
Given all of the unknowns related to the length and depth of the economic crisis created by the virus, it is challenging to forecast what municipal default rates will look like going forward. Negative headlines, as well as politicizing and posturing around potential recovery money, are creating additional uncertainty. In our experience, it is markets like these that highlight the importance of fundamental, bottom‑up credit research. 
The Coronavirus Aid, Relief, and Economic Security (CARES) Act provided much‑needed direct aid of USD 150 billion from the federal government to states for expenditures related to COVID‑19, the disease caused by the coronavirus. Additionally, through the creation of the Federal Reserve's Municipal Liquidity Facility (MLF) and its subsequent expansion, the federal government will provide vital support for the short‑term cash flow needs of municipalities. There is the potential for future aid from Congress for state and local governments as their funding needs continue to build over time.
State Bankruptcy: A Scary Prospect, But Not Realistic
In late April, Senate Majority Leader Mitch McConnell said that he favored the idea of allowing states to file for bankruptcy rather than relying on the federal government for a bailout. His comments generated a broadly negative reaction from the governors of several states, and he was heavily criticized for not being supportive of states collectively dealing with the extreme financial challenges presented by the COVID‑19 crisis.
"...the federal government will provide vital support for the short‑term cash flow needs of municipalities."
McConnell's statements have put renewed focus on the difficulties that lie ahead for state and local governments and may highlight the need for increased aid. With President Donald Trump and Treasury Secretary Steven Mnuchin weighing in on McConnell's comments, the ongoing negative media attention could continue to pressure municipal bond fund flows industrywide.
Despite McConnell's wishes, states currently may not file for bankruptcy in federal court, nor is it likely that Congress has the ability or willingness to somehow establish some sort of mechanism for a federal court to oversee a state's bankruptcy proceedings akin to the process that it established for Puerto Rico. The 10th Amendment presents significant constitutional limitations on this kind of federal control over states. Furthermore, given the current makeup of Congress, any change to the states' ability to access bankruptcy would face significant challenges.
Great Depression Forced Arkansas Default
It is possible that a state with a combination of fiscal distress brought about by the COVID‑19‑related slowdown and poorly funded long‑term liabilities may find itself with inadequate resources to provide necessary government services to its citizens and simultaneously cover its obligations to creditors. Without an option for bankruptcy, states in financial distress can simply default.
However, only one state has ever defaulted. During the depths of the Great Depression, the state of Arkansas declared bankruptcy in 1933. So as to not miss out on the burgeoning automobile industry and to bring the state into the modern age, Arkansas made a push to build more roads in the 1920s. The state borrowed money to fund the expansion and took on the debt of local road districts. In 1927, the Mississippi River flooded, covering nearly a third of the state and essentially wiping out the infrastructure projects.
"…municipal defaults will increase in the next few years but should remain low compared with corporates."
After the stock market crash of 1929 and another once‑in‑a‑lifetime external shock—a drought that ruined the bulk of Arkansas' cotton crop—the state was faced with a mountain of debt payments and forced to default. Ultimately, however, the state paid bondholders in full.
Municipal Bankruptcy Act of 1937
Since that time, participants in the municipal debt market have taken great strides to protect themselves. The creation of the Municipal Bankruptcy Act of 1937 laid the groundwork for determining the eligibility of municipalities (other than states) to enter bankruptcy as well as ascertaining whether the entity was facing a short‑term cash flow problem or legitimate insolvency. The act explicitly outlines that states are not covered by the federal bankruptcy code, meaning that they cannot file for bankruptcy.
Even as defaults increase during economic downturns, the overall rate of municipal defaults remain low. States and municipalities typically have balanced budget requirements and debt limits, and they have established prudent practices such as using conservative revenue projections and maintaining significant balances in "rainy day" funds to prepare them for economic downturns. Overwhelmingly, we believe governments representing a large portion of the broad municipal market are well positioned to remain financially stable.
RELATIVELY LOW MUNI DEFAULT RATES
(Fig. 2) Defaults as percentage of market outstanding
As of December 31, 2018.

Sources: T. Rowe Price calculations using data from Moody's Investors Service and Securities Industry and Financial Markets Association (SIFMA) (see Additional Disclosure).
Large‑Scale Municipal Defaults Relatively Rare
These changes have helped to greatly diminish defaults in municipalities since the Great Depression, when the default rate was 3.1% (from 1929–1937).1 These incidents were largely delayed payments rather than true defaults. Since that time, large‑scale municipal defaults have remained relatively rare, even during recessions. Although there have been notable municipal defaults, such as Detroit and Puerto Rico in recent years, municipal default rates have been lower than those in other fixed income segments by a wide margin. From 1970–2018, the cumulative default rate for munis was just 0.2%, while global corporates and sovereigns had default rates of 10.1% and 7.5%, respectively.
Post‑default recovery rates2 for municipals are also much higher than for other fixed income segments. From 1970–2018, the average recovery rate for defaulted municipal bonds was 61%, compared with the 48% average recovery rate for global corporate bonds from 1987–2018.
Default Rates Likely to Rise From Very Low Base Level
As in past economic downturns, we expect that municipal defaults will increase in the next few years but should remain low compared with corporates. We think that defaults are more likely in nontraditional parts of the market, such as speculative project finance deals and standalone life‑care facilities with already weak balance sheets.
During the global financial crisis (GFC), default rates increased to 0.3% for municipals and approached 5.0% for global corporates. Given that we are beginning to see macroeconomic data that look worse than during the GFC, we could see municipal defaults higher than in the previous crisis. The rate of municipal defaults could in the end be higher or lower depending on the severity and duration of the current crisis but ultimately be muted compared with other asset classes. 
Municipal Debt Remains High Quality, But Credit Research Is Essential
The municipal market is large and diverse, with many issuers who have historically managed their finances in a prudent manner, building rainy day funds and properly funding their long‑term liabilities. Nonetheless, the depth of the public health crisis will pressure even the most prepared state and local governments.
While it is difficult to forecast the long‑term impact of the coronavirus on the municipal asset class, state and local governments will face considerable stress as they try to balance funding their existing long‑term liabilities amid short‑term revenue declines. Municipal governments will also face the rising costs of providing necessary services to their citizens. The situation will prove even more challenging for borrowers with budget stresses that existed prior to the crisis. Revenue‑backed municipal bonds will face their own set of hurdles as the impacts from the loss of revenues begin to pressure issuers.
Nevertheless, with good fiscal management and a disciplined financial prioritization process, which exists at most state and local governments, we anticipate that the municipal debt asset class will remain high quality, with low defaults and high recovery rates relative to other areas of fixed income. In the challenging market going forward, we believe that the strength of our credit research and our fundamental, bottom‑up approach should help our clients navigate the environment.
---
WHAT WE'RE WATCHING NEXT
After grinding to a near-halt in late March, new municipal issuance picked up meaningfully in April as the Fed's support for munis encouraged issuers to tap the primary market for funds. Going forward, we expect to see more municipalities bring new deals to market, which would affect the technical balance between supply and demand.
---
1 Source for all historical default and recovery rate data: Moody's Investors Service.
2 Recovery Rate: Amount of accrued interest and principal that can be recovered on defaulted debt, expressed as a percentage of face value.
View Disclosure
Additional Disclosure
© 2020, Moody's Corporation, Moody's Investors Service, Inc., Moody's Analytics, Inc. and/or their licensors and affiliates (collectively, "Moody's").  All rights reserved. Moody's ratings and other information ("Moody's Information") are proprietary to Moody's and/or its licensors and are protected by copyright and other intellectual property laws.  Moody's Information is licensed to Client by Moody's.  MOODY'S INFORMATION MAY NOT BE COPIED OR OTHERWISE REPRODUCED, REPACKAGED, FURTHER TRANSMITTED, TRANSFERRED, DISSEMINATED, REDISTRIBUTED OR RESOLD, OR STORED FOR SUBSEQUENT USE FOR ANY SUCH PURPOSE, IN WHOLE OR IN PART, IN ANY FORM OR MANNER OR BY ANY MEANS WHATSOEVER, BY ANY PERSON WITHOUT MOODY'S PRIOR WRITTEN CONSENT. Moody's (R) is a registered trademark.
Important Information
This material is provided for informational purposes only and is not intended to be investment advice or a recommendation to take any particular investment action.
The views contained herein are those of the authors as of May 2020 and are subject to change without notice; these views may differ from those of other T. Rowe Price associates.
This information is not intended to reflect a current or past recommendation, investment advice of any kind, or a solicitation of an offer to buy or sell any securities or investment services. The opinions and commentary provided do not take into account the investment objectives or financial situation of any particular investor or class of investor. Investors will need to consider their own circumstances before making an investment decision.
Information contained herein is based upon sources we consider to be reliable; we do not, however, guarantee its accuracy.
Past performance is not a reliable indicator of future performance. All investments are subject to market risk, including the possible loss of principal. Fixed‑income securities are subject to credit risk, liquidity risk, call risk, and interest-rate risk. As interest rates rise, bond prices generally fall. All charts and tables are shown for illustrative purposes only.
T. Rowe Price Investment Services, Inc.
© 2020 T. Rowe Price. All rights reserved. T. ROWE PRICE, INVEST WITH CONFIDENCE, and the bighorn sheep design are, collectively and/or apart, trademarks or registered trademarks of T. Rowe Price Group, Inc.