Follow
Portfolio Construction
Portfolio Construction Insights
How a Bond Ladder Can Offer Stability in Any Market Condition
Key takeaways
Bond ladders offer investors stable income using a strategy that minimizes interest-rate risk.
Fees for bond ladder portfolios tend to be lower than for actively managed portfolios.
Ladders can still carry credit risk, and investors could face losses if they need to sell bonds before they mature.
With today's ultra-low rates, bond ladders may prove to be an especially effective approach to stable income if rates rise in coming years.
---
What Is a Bond Ladder Investment Strategy?
A bond ladder is a portfolio of individual bonds whose maturity dates are staggered over a set number of years. As one bond matures, it is replaced with a new bond at the maximum maturity for the strategy. For example, a laddered portfolio might hold five bonds that mature on each of the next five years; as each bond matures, the proceeds are reinvested into a new five-year bond, maintaining the five-year ladder. The ladder can be made of U.S. government bonds, corporate bonds, a mix of both, or tax-exempt municipal bonds.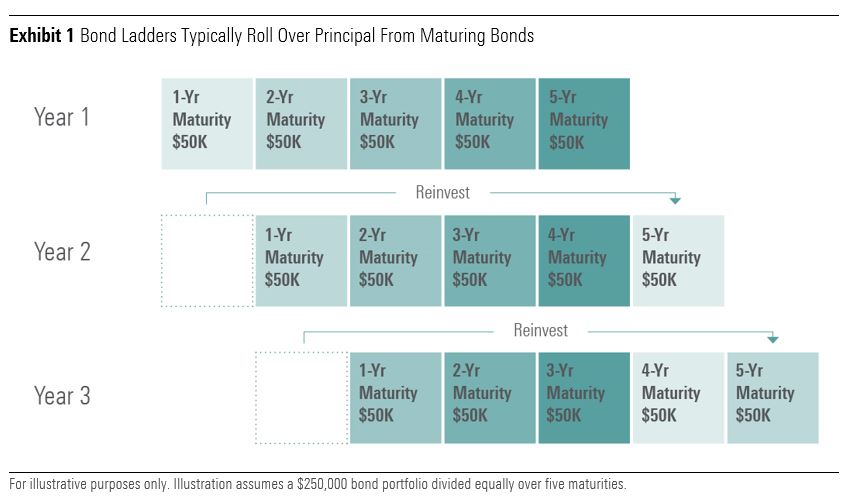 The strategy is designed to provide a predictable income stream while minimizing exposure to interest-rate fluctuations. With bonds maturing every year (or twice a year, depending on how the ladder is structured), an investor will receive regular coupon payments throughout the life of the bond, and at each maturity date, receive the bond principal in full.
Why Might Someone Hold a Bond Ladder?
For investors looking to manage cash flows by receiving a predictable amount on a fixed schedule, a bond ladder strategy can be an appealing option. A bond ladder can preserve capital in a rising-rate environment by holding bonds to maturity. This differs from a traditional bond portfolio (such as a passive mutual fund that tracks the Bloomberg Barclays U.S. Aggregate Bond Index), which will typically fall in value as interest rates rise. Because a ladder uses a buy-and-hold approach, price fluctuations for individual bonds do not become realized gains or losses, so long as the bond is held until maturity as intended.
Another appealing characteristic of a bond ladder is that fees tend to be relatively low. Compared with an actively managed bond fund, fees associated with the management of a laddered bond strategy are typically a fraction of the cost. In today's environment when yields are at historically low levels and future return expectations muted, keeping more of the portfolio's gains in your pocket by way of lower fees can make a difference.
Other Risks to Consider
While laddered bond portfolios help mitigate interest-rate risk and help lower fees for the investor, there are other risks to consider when investing in a bond ladder. For example, corporate bond ladders still carry default risk, or the possibility of a company being unable to pay back its debt. Traditional bond portfolios that hold corporate bonds also carry default risk, and in both cases hiring a professional investment manager who specializes in bond portfolios can help mitigate this risk. These managers select corporate bonds based on their assessment of credit quality, monitor the creditworthiness of portfolio positions through time, and make any changes should the risk of default arise. They may also seek to weed out riskier issuers so investors can avoid potential cash flow impacts associated with credit risk. Anyone building a bond ladder should ensure it is designed with ample diversification across individual bond issuers to provide this predictable stream of income.
This table summarizes the potential pros and cons of each approach.

How Might Ladders Fare Given the Current Rate Environment?
Given the historically low rate environment, mitigating the risk of rising rates may be top of mind for some bond investors today. Moreover, there's potentially less risk of having to reinvest maturing bonds at lower interest rates and reducing income potential compared with prior periods, given there's (arguably) not much lower that rates may be able to move from here.
Moreover, if interest rates rise, an investor will have the opportunity to reinvest proceeds from maturing bonds and coupon payments at higher yields as they continue to build their ladder, and effectively increase the average yield on their portfolio of bonds. As a result, rising rates can be a good thing for the laddered bond investor's ability to generate additional income.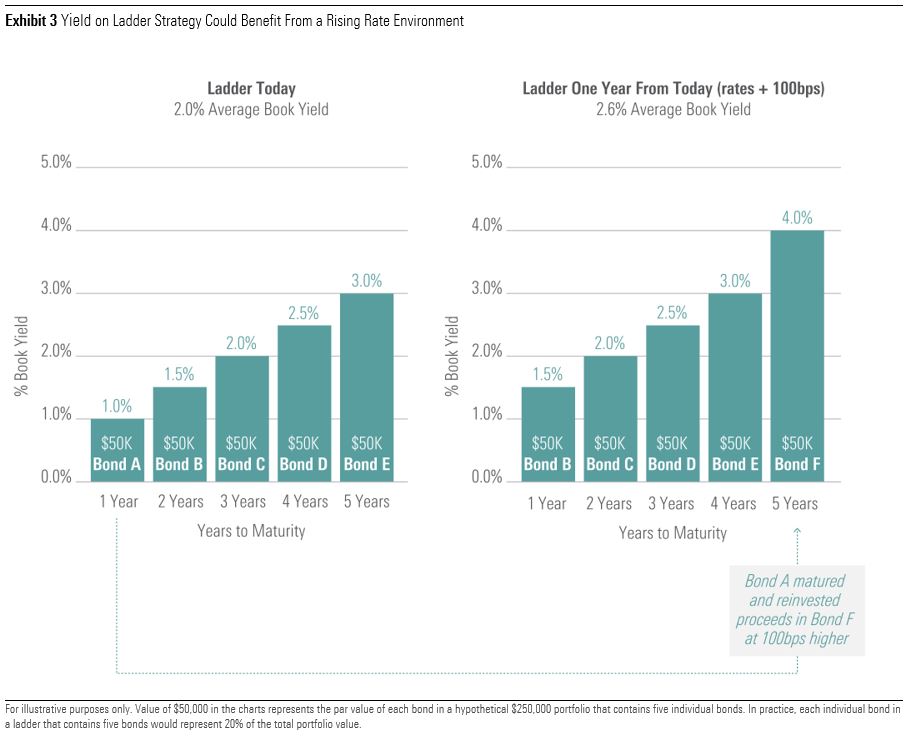 If you are interested in investing in a bond ladder strategy, visit our Select Fixed-Income Portfolios.  We have a range of corporate and municipal bond ladder strategies to help meet your client's needs.
View Disclosure
Opinions expressed are as of the current date; such opinions are subject to change without notice. Morningstar Investment Management shall not be responsible for any trading decisions, damages, or other losses resulting from, or related to, the information, data, analyses or opinions or their use. This commentary is for informational purposes only. The information, data, analyses, and opinions presented herein do not constitute investment advice, are provided solely for informational purposes and therefore are not an offer to buy or sell a security. Please note that references to specific securities or other investment options within this piece should not be considered an offer (as defined by the Securities and Exchange Act) to purchase or sell that specific investment. Performance data shown represents past performance. Past performance does not guarantee future results. All investments involve risk, including the loss of principal. There can be no assurance that any financial strategy will be successful. Morningstar Investment Management does not guarantee that the results of their advice, recommendations or objectives of a strategy will be achieved. This commentary contains certain forward-looking statements. We use words such as "expects", "anticipates", "believes", "estimates", "forecasts", and similar expressions to identify forward-looking statements. Such forward-looking statements involve known and unknown risks, uncertainties and other factors which may cause the actual results to differ materially and/or substantially from any future results, performance or achievements expressed or implied by those projected in the forward-looking statements for any reason. Past performance does not guarantee future results. Morningstar® Managed PortfoliosSM are offered by the entities within Morningstar's Investment Management group, which includes subsidiaries of Morningstar, Inc. that are authorized in the appropriate jurisdiction to provide consulting or advisory services in North America, Europe, Asia, Australia, and Africa. In the United States, Morningstar Managed Portfolios are offered by Morningstar Investment Services LLC or Morningstar Investment Management LLC, both registered investment advisers, as part of various advisory services offered on a discretionary or non-discretionary basis. Portfolio construction and on-going monitoring and maintenance of the portfolios within the program is provided on Morningstar Investment Services behalf by Morningstar Investment Management LLC. Morningstar Managed Portfolios offered by Morningstar Investment Services LLC or Morningstar Investment Management LLC are intended for citizens or legal residents of the United States or its territories and can only be offered by a registered investment adviser or investment adviser representative. Investing in international securities involve additional risks. These risks include, but are not limited to, currency risk, political risk, and risk associated with varying accounting standards. Investing in emerging markets may increase these risks. Emerging markets are countries with relatively young stock and bond markets. Typically, emerging-markets investments have the potential for losses and gains larger than those of developed-market investments. A debt security refers to money borrowed that must be repaid that has a fixed amount, a maturity date(s), and usually a specific rate of interest. Some debt securities are discounted in the original purchase price. Examples of debt securities are treasury bills, bonds and commercial paper. The borrower pays interest for the use of the money and pays the principal amount on a specified date. The indexes noted are unmanaged and cannot be directly invested in. Individual index performance is provided as a reference only. Since indexes and/or composition levels may change over time, actual return and risk characteristics may be higher or lower than those presented. Although index performance data is gathered from reliable sources, Morningstar Investment Management cannot guarantee its accuracy, completeness or reliability.