Follow
Portfolio Construction
Portfolio Construction Insights
This piece is approved to use with clients.
Why Crypto Doesn't Meet Our Standards as Investment Managers
Key takeaways
To help financial advisors with client-friendly communications, we bring together our investment experts and ask them to address common investment concerns from the field. We hope these bite-sized answers prove helpful.
Question: What is Your Take on Crypto Being Increasingly Considered a Mainstream Asset Class?
It is well known that the key to successful investing is the ability to focus on the long term, buying assets that collectively boost your purchasing power (or fund your lifestyle) and ultimately help you achieve your goals. Whether we're talking about traditional assets such as stocks or bonds—or new-age alternatives such as crypto—it is always worth reiterating why we invest. Under this lens, we can start to unpack the rise in popularity for cryptocurrencies. The primary question I'd ask is what role is it expected to play in a person's portfolio? Is it a return generator or a diversifier?
As a return generator. We can't argue with the recent incredible gains, but the challenge for enthusiasts of cryptocurrencies remains a function of value. Specifically, there are no intrinsic cashflows and therefore no reliable way of estimating its fair value or return potential. Of course, this is true for other holdings such as gold too, often creating speculative movements and big swings in prices like we're seeing today. In such a scenario, enthusiasts usually rely on supply and demand as their primary justification for inclusion. However, it is important to remember that equilibrium can only be reached (at a price above zero) if supply is limited. While this may be the case for individual cryptocurrencies, the group as a whole continues to experience massive supply growth with over 14,350 cryptos currently being tracked by Coinmarketcap.com—as of November 17th, 2021—thereby creating portfolio vulnerabilities for investment managers. Like anything, crypto's popularity might continue to rise higher for a while, but it unfortunately doesn't meet the valuation standards for inclusion in our multi-asset portfolios as return generators.
As an inflation hedge or other diversifier. Here, the case for crypto inclusion is perhaps more nuanced. For example, crypto is often branded as an alternative if our modern monetary system (including fiat currency) is destabilized, which potentially has merit. Linked to this, it is also thought to offer inflation protection, which is also a worthwhile pursuit. However, we don't have nearly enough evidence to support this view and hence must expect a wide range of potential outcomes from crypto assets. As investment managers, we build portfolios to be robust in a wide range of market environments. Consequently, when adding diversifying assets to portfolios, we want to ensure that they will deliver in the scenario for which they have been selected. We simply don't have enough evidence to support holdings in crypto as diversifiers against market stress. Said another way, as stewards of capital, it would be paradoxical to add an ultra-high–risk holding to reduce total portfolio risk.
While crypto doesn't meet our standards, we are cognizant that some investors will decide that crypto does meet their criteria. But for those that decide to pursue crypto as "fun money" or a "side bet", please be aware that you are vulnerable to an 'escalation of commitment', a psychological phenomenon researched by Prof. Barry Staw and characterised as disappointment reinforcing rather than undermining a prior belief. This has been typically witnessed in religious cults focused on the end of the world. However, it is equally apparent in more mundane settings such as wealth management, especially when an asset has a short track record.
Highlight of Our Investment Convictions
Steering investors to more traditional asset classes, our investment team monitors over 300+ markets across equities, fixed income, and currency. We highlight our conviction level across some core assets, including a micro-thesis on the key drivers.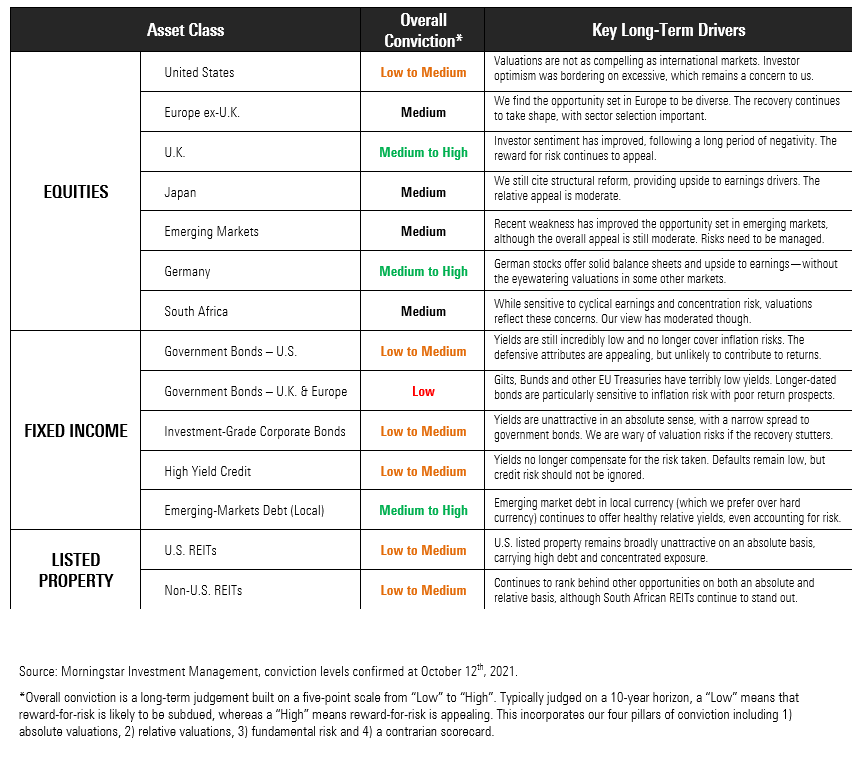 Want More Investment Insights Like This?
If you found this investment insight useful, you may like our last question: What are the Biggest Downside Risks for Investors?
Related, you may also enjoy our latest inflation piece: Inflation is at 30-Year Highs. Views from an Investor, Not an Economist or our Global Convictions & Outlook: Asset Allocation Perspectives. 
View Disclosure
Opinions expressed are as of the current date; such opinions are subject to change without notice. Morningstar Investment Management shall not be responsible for any trading decisions, damages, or other losses resulting from, or related to, the information, data, analyses or opinions or their use. This commentary is for informational purposes only. The information, data, analyses, and opinions presented herein do not constitute investment advice, are provided solely for informational purposes and therefore are not an offer to buy or sell a security. Please note that references to specific securities or other investment options within this piece should not be considered an offer (as defined by the Securities and Exchange Act) to purchase or sell that specific investment. Performance data shown represents past performance. Past performance does not guarantee future results. All investments involve risk, including the loss of principal. There can be no assurance that any financial strategy will be successful. Morningstar Investment Management does not guarantee that the results of their advice, recommendations or objectives of a strategy will be achieved. This commentary contains certain forward-looking statements. We use words such as "expects", "anticipates", "believes", "estimates", "forecasts", and similar expressions to identify forward-looking statements. Such forward-looking statements involve known and unknown risks, uncertainties and other factors which may cause the actual results to differ materially and/or substantially from any future results, performance or achievements expressed or implied by those projected in the forward-looking statements for any reason. Past performance does not guarantee future results. Morningstar® Managed PortfoliosSM are offered by the entities within Morningstar's Investment Management group, which includes subsidiaries of Morningstar, Inc. that are authorized in the appropriate jurisdiction to provide consulting or advisory services in North America, Europe, Asia, Australia, and Africa. In the United States, Morningstar Managed Portfolios are offered by Morningstar Investment Services LLC or Morningstar Investment Management LLC, both registered investment advisers, as part of various advisory services offered on a discretionary or non-discretionary basis. Portfolio construction and on-going monitoring and maintenance of the portfolios within the program is provided on Morningstar Investment Services behalf by Morningstar Investment Management LLC. Morningstar Managed Portfolios offered by Morningstar Investment Services LLC or Morningstar Investment Management LLC are intended for citizens or legal residents of the United States or its territories and can only be offered by a registered investment adviser or investment adviser representative. Investing in international securities involve additional risks. These risks include, but are not limited to, currency risk, political risk, and risk associated with varying accounting standards. Investing in emerging markets may increase these risks. Emerging markets are countries with relatively young stock and bond markets. Typically, emerging-markets investments have the potential for losses and gains larger than those of developed-market investments. A debt security refers to money borrowed that must be repaid that has a fixed amount, a maturity date(s), and usually a specific rate of interest. Some debt securities are discounted in the original purchase price. Examples of debt securities are treasury bills, bonds and commercial paper. The borrower pays interest for the use of the money and pays the principal amount on a specified date. The indexes noted are unmanaged and cannot be directly invested in. Individual index performance is provided as a reference only. Since indexes and/or composition levels may change over time, actual return and risk characteristics may be higher or lower than those presented. Although index performance data is gathered from reliable sources, Morningstar Investment Management cannot guarantee its accuracy, completeness or reliability.