Follow
Portfolio Construction
This piece is approved to use with clients.
Decarbonzing Portfolios with SPDR MSCI Climate Paris Aligned ETFs
Climate: Pressure Is Mounting
The political will to act on climate is increasing. In 2021, the UN Climate Change Conference in Glasgow (COP26) reaffirmed the 2016 Paris Agreement goal to limit the increase in the global average temperature to well below 2°C above pre-industrial levels and pursue efforts to limit it to 1.5 °C. COP26 also pledged to further cut CO2 emissions among other climate-friendly actions.
Despite this progress, listed companies are putting carbon into the atmosphere at a rate that threatens to make the world 3°C warmer — double the warming for the worst effects of climate change.1
Yet, a confluence of factors continues to put pressure on companies to address climate, driving change across the investment landscape, including:
Regulation and Policy: The Paris Climate Agreement may be the catalyst for governments to speed up climate-aligned policies. The 196 countries that signed the treaty to cut carbon emissions are legally obliged to pursue regulations to help meet their responsibilities.
Increasing Climate Consciousness: Investors who are seeking to mitigate climate risk and to invest in climate solutions may drive demand for more ESG education, guidance, solutions and analytics.
Stakeholder Pressure: Corporate boards, employees, customers and investors are using their voice, vote and dollars to compel companies and organizations to address climate risks and opportunities. For example, activist investors have secured seats on Exxon Mobil's Board.2
Global Pledges: Asset owners, asset managers and investor initiatives are aligning efforts to take action on addressing climate change, including:
Net Zero Pledge: Asset owners and managers pledge to support efforts to limit global warming to 1.5°C by 2050 by targeting net zero emissions across their holdings.
Climate Action 100+: An investor initiative to ensure the world's largest corporate greenhouse gas (GHG) emitters take necessary action on climate change.
Time for Investors to Act
Investors have an opportunity to play a role in the reduction in global warming through decarbonization of their portfolios. Underscoring the momentum toward broad adoption of climate investing, in our recent investment survey, 61% of North American investors said that they would implement decarbonization targets within three years.3
Climate ETFs provide an efficient vehicle for investors who are looking to take action.
MSCI, a leader in climate data — and the provider of the indices tracked by our new climate ETFs — may help investors meet their decarbonization goals with confidence.
Partnering with MSCI for a Swift and Efficient Solution
MSCI has been a pioneer in carbon and climate change analysis since 1990. The company is a leader in climate data and analytics and an acknowledged authority in climate indices (#1 Climate Index Provider by Equity Assets Linked to its Climate Indexes).4
MSCI Climate Paris Aligned Indices are designed as alternatives to familiar, broad equity benchmarks. This is designed to enable clients to decarbonize their portfolios quickly and cost-effectively without the need for extensive research and portfolio analysis.
MSCI Climate Paris Aligned Indices
Paris Aligned Benchmarks (PABs) were first introduced in 2019 as tools to accompany the transition to a low carbon economy by the Technical Expert Group of the European Commission. These indices are intended to help reallocate capital toward a low carbon and climate resilient global economy.
PABs require a 50% reduction in greenhouse gas (GHG) emissions compared with a parent index in year one, then a 7% year-on-year reduction of GHG emissions relative to the fund itself.
MSCI's Climate Paris Aligned Indices are designed to meet and exceed the EU Paris Aligned benchmark requirements, seeking to decarbonize at an annual rate of 10% to ensure a temperature aligned with 1.5°C ("self-decarbonization").
The indices have a number of exclusions, including:
PAB activity exclusions which include companies with certain involvement, based on levels of production or revenue:

Thermal coal mining
Oil and gas related activities
Power generation from thermal coal, oil, natural gas
Tobacco

Controversial weapons companies with certain involvement based on levels of production, revenue or ownership
Societal norms and environmental controversy violators
The indices employ an optimization process that seeks to improve the climate profile of their respective parent indices by minimizing exposure to the physical and transition risks of climate change, increasing exposure to sustainable (or green) investment opportunities and aligning to 1.5°C — while maintaining a modest tracking error relative to the parent index and offering low turnover.
The four climate objectives — transition risk, 1.5 °C alignment, green opportunity, and physical risk — are explained below.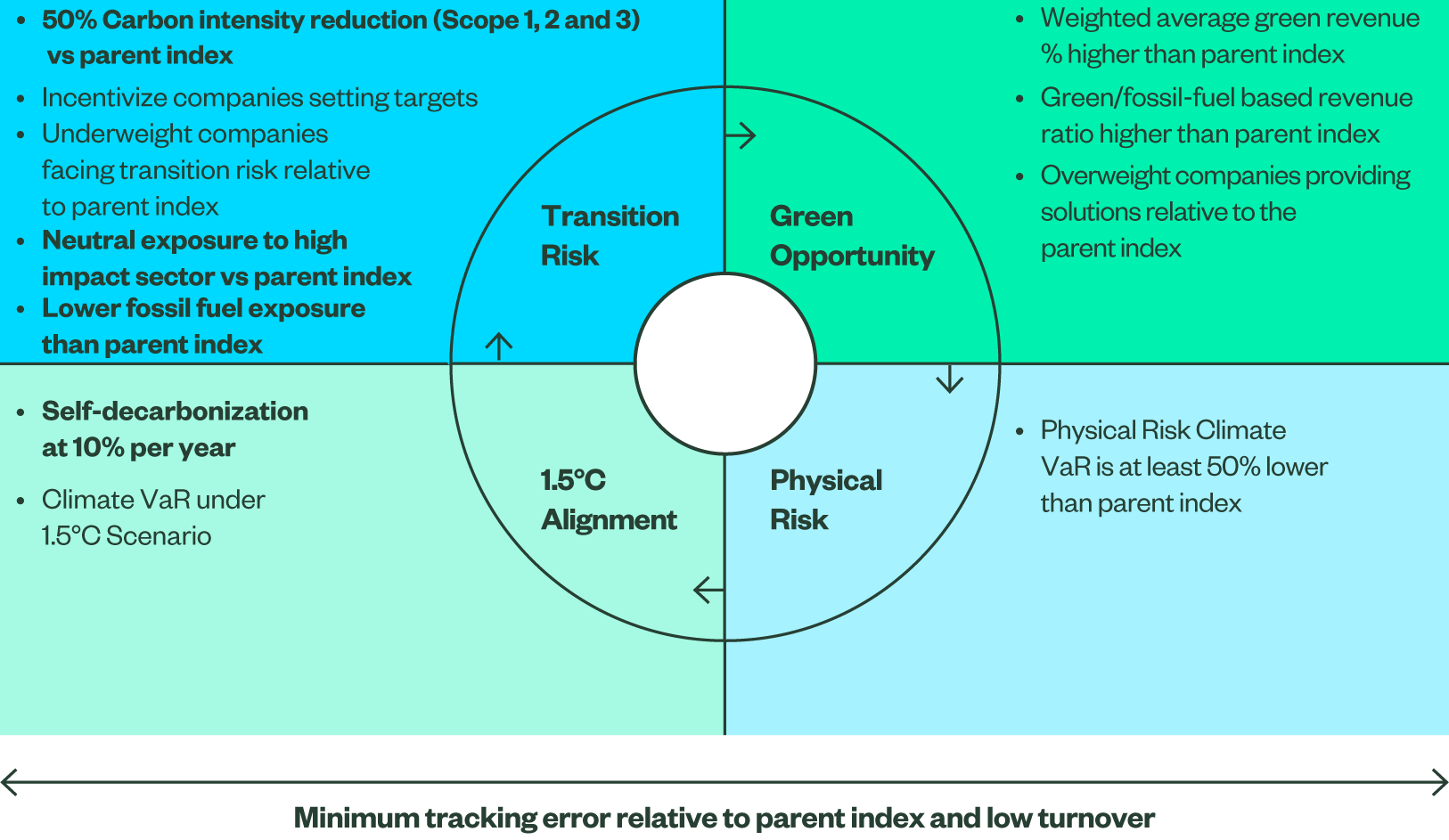 The information contained above is for illustrative purposes only.
The indices are rebalanced following semi-annual reviews in May and November each year, at which point they must adhere to 50% reduction in carbon emissions and continued decarbonization.
The indices are aligned with TCFD (Task Force on Climate-Related Financial Disclosures) recommendations, with a substantially reduced carbon footprint (including Scope 3 product and supply-chain emissions). The weights of companies with substantiated reduction targets are elevated and there is a reduction on physical climate risk exposure (based on the MSCI Climate Value-at-Risk model).
View Disclosure
The views expressed in this material are the views of SPDR Equity ETF Strategy through the period ended April 11, 2022, and are subject to change based on market and other conditions. This document contains certain statements that may be deemed forward-looking statements. Please note that any such statements are not guarantees of any future performance and actual results or developments may differ materially from those projected.
This communication is not intended to be an investment recommendation or investment advice and should not be relied upon as such.
Prior to 04/22/2022, the SPDR MSCI ACWI Climate Paris Aligned ETF (NZAC) was known as the SPDR MSCI ACWI Low Carbon Target ETF (LOWC).
Investing involves risk of including the risk of loss of principal.
Equity securities may fluctuate in value in response to the activities of individual companies and general market and economic conditions.
Foreign (non-U.S.) securities may be subject to greater political, economic, environmental, credit and information risks. Foreign securities may be subject to higher volatility than U.S. securities, due to varying degrees of regulation and limited liquidity. These risks are magnified in emerging markets.
Investments in mid-sized companies may involve greater risks than in those of larger, better known companies, but may be less volatile than investments in smaller companies.
Companies with large market capitalizations go in and out of favor based on market and economic conditions. Larger companies tend to be less volatile than companies with smaller market capitalizations. In exchange for this potentially lower risk, the value of the security may not rise as much as companies with smaller market capitalizations.
A non-diversified fund that focuses on a relatively small number of issuers tend to be more volatile than diversified funds and the market as a whole.
Passively managed funds invest by sampling the index, holding a range of securities that, in the aggregate, approximates the full Index in terms of key risk factors and other characteristics. This may cause the fund to experience tracking errors relative to performance of the index.
A fund's incorporation of ESG considerations in its investment process may cause it to make different investments than funds that do not incorporate such considerations in their strategy or investment processes. Under certain economic conditions, this could cause a fund's investment performance to be worse than funds that do not incorporate such considerations. A fund's incorporation of ESG considerations may affect its exposure to certain sectors and/or types of investments, and may adversely impact the fund's performance depending on whether such sectors or investments are in or out of favor in the market.
While the shares of ETFs are tradable on secondary markets, they may not readily trade in all market conditions and may trade at significant discounts in periods of market stress.
The trademarks and service marks referenced herein are the property of their respective owners. Third party data providers make no warranties or representations of any kind relating to the accuracy, completeness or timeliness of the data and have no liability for damages of any kind relating to the use of such data.
The funds or securities referred to herein are not sponsored, endorsed, or promoted by MSCI, and MSCI bears no liability with respect to any such funds or securities or any index on which such funds or securities are based. The Prospectus contains a more detailed description of the limited relationship MSCI has with SSGA Funds Management, Inc and any related funds.