This piece is approved to use with clients.
AAM Viewpoints: The Pandemic: A Credit Epilogue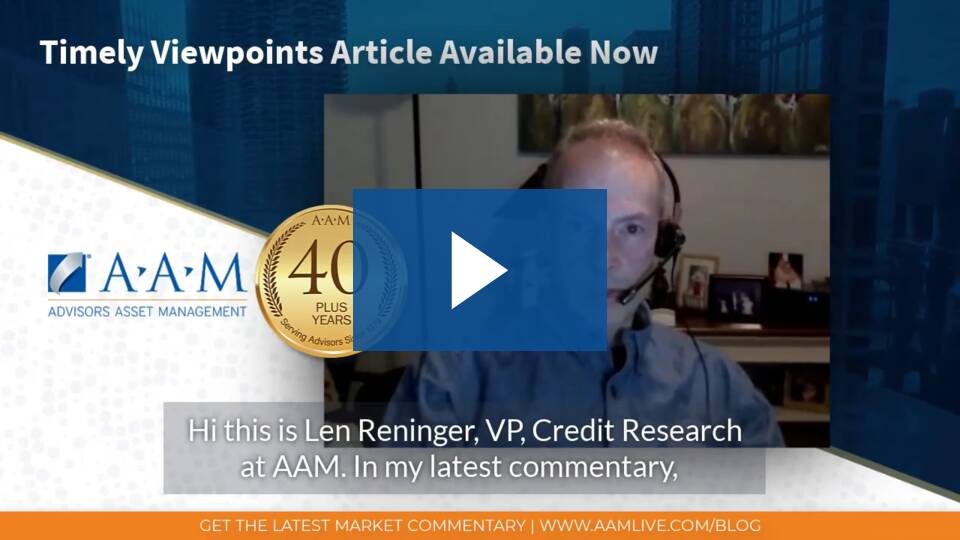 Viewpoints - The Pandemic: A Credit Epilogue
Introduction: While the COVID-19 crisis is not yet over, with cases recently spiking again, the vaccines are being administered and there appears to be a light at the end of the tunnel. It still remains to be seen whether new consumer behavior will stick or revert to pre-pandemic patterns. In any case, the economic shutdown followed by a slow pace of re-opening presented unprecedented challenges for municipal and corporate credit. Default rates have risen, and municipal rating downgrades have generally accelerated. But, stepping back, was there any real long-term damage to the fundamental credit story as a result of the pandemic, or was the damage merely short term? Or, was the damage as bad as the headlines would have one believe?
Municipal:
Throughout 2020, there were cries for more federal assistance to help with essential service expenses as it was being reported that tax revenues were crashing. Amongst the turmoil, in 2020, the number of municipal Moody's downgrades exceeded the number of upgrades (barely) for the first time since 2014.
While this may have been true during the early stages of the shutdown, tax collections are coming in much better than anticipated with nearly all the largest states reporting significant increases in tax collections above that what was feared earlier. In fact, year-to-date in fiscal 2020, more than half of states had revenue down only 1.5% to 5%. Thirteen states were actually ahead in revenues than the previous year.
Sales tax has been in the news since the pandemic struck as being the most vulnerable revenue source that supports state and local governments. While sales taxes initially took a big hit, prompting fears of financial collapse among states and cities, the drop did not last long and through the 4th quarter of 2020 (4Q20) are approaching record levels – where they were before the pandemic.
While it is true that these governments cannot collect what it already lost in collections, severe cuts in spending combined with strengthening of this revenue source and federal assistance bodes positively for the sector's recovery.
What about property taxes, the chief revenue source of local governments and school districts? Property taxes are generally collected in arrears of real market activity, making it substantially less exposed and better positioned to respond to economic declines. Historically, declines in property tax revenue have lagged changes in economic activity, giving governments time to cut spending and maintain fiscal stability in the long run. Given the relative quick bounce of economic activity from pandemic lows (although not all the way from pre-pandemic activity), declines in this revenue source are not expected to be problematic.
Concern has been voiced about the toll road sector given significant drops in traffic. However, toll roads started the pandemic with, in general, hundreds of days (if not years) worth of cash on hand. According to rating agency data, the median toll road liquidity going into the crisis was 914 days cash on hand with debt service coverage of 2.05x. Medians for single-asset systems was 2,263 days cash on hand. Medians for multi-asset systems were 796 days cash on hand. This is on top of indenture-required 6-12 months debt service reserve funds. Moody's is forecasting that liquidity will remain strong in 2021 – in excess of two years of liquidity on average (not including 12-month debt service reserve funds). Several toll roads have also proactively refinanced their debt to reduce fixed debt service costs to ensure covenant compliance, while preserving liquidity and not pressuring toll rates as traffic and revenue recover. In the meantime, all debt service payments have been made, there were no downgrades in the sector, commercial traffic (which generates higher revenues) is improving, and increased tolls in some systems have improved collections further. Per the Federal Reserve Bank of St. Louis, commercial traffic has recovered to pre-pandemic levels in many areas of the country and have the potential to remain steady in 2021 as consumers continue to buy goods over services amid COVID-19. Vehicle miles traveled (VMT) and T&R (tolled traffic and revenue) are expected to steadily improve with the economy, but the recovery's pace and magnitude will differ by region and asset type. Nevertheless, in 4Q20, one of the largest Moody's upgrades was a toll road authority.
Airports also went into the pandemic with strong liquidity, averaging 735 days cash on hand, per Moody's. Moreover, a significant boost from the CARES Act, which provided $10B to airports among other assistance, accommodative capital markets, and, in many cases, a residual fee structure in which airlines collectively assume significant financial risk by agreeing to pay any costs of running the airport that are not allocated to other users or covered by non-airline sources of revenue, all combined to generally maintain stable to improving liquidity despite the sharp drop in air travel. Major airlines that support these airports have all enhanced their liquidity to unprecedented levels to support their positions at the airports and to maintain vital gates for when air travel picks up again. On a cautionary note, smaller airports not serving major origin and destination facilities may be vulnerable.
In terms of passengers, mass transit suffered the worst, but these systems generally had ample reserves, growing federal support, and most debt is supported by sales or other taxes, not passenger revenues. All debt service payments have been made. Even with convention centers and hotels, many bonds (but not all) were supported by city-wide taxes. While tax revenues have dropped forcing some facilities to dig into reserve funds, all debt payments have been made, and liquidity is generally sufficient to get through the current depressed environment.
Much of the public health care sector took a hit when elective surgeries were postponed in favor of treating those who became severely ill due to COVID-19. However, almost all hospitals have now re-opened for elective procedures and some have received supportive funding from the federal government. Moreover, President Biden just used an executive action to expand access to health insurance through a special Affordable Care Act (ACA) enrollment period for the next three months – a credit positive for hospitals and health systems. This should likely benefit hospitals by facilitating insurance coverage, reducing the number of uninsured or underinsured patients and promoting volume and business recovery, which generally remains below pre-pandemic levels. Additionally, the U.S. Department of Health and Human Services (HHS) notified state governors that the current public health emergency (PHE) caused by the coronavirus will likely last through the end of 2021. As a result, HHS' temporary 6.2-percentage-point increase in the Federal Medical Assistance Percentage (FMAP) will remain in effect at least through December 2021 – a credit positive because it means states will continue to benefit from enhanced federal matching funds. Given the support from the federal government and accommodative capital markets, the financial strength of public health institution appears to be on the upswing.
While some municipal sectors have been and will likely continue to be hurt, such as small colleges, non-recourse dormitory revenue bonds, smaller airports, hotel/convention center revenue bonds, tourism-based tax bonds, and retirement/assisting living facilities, the municipal sector was more resilient than anticipated.
Corporate:
The corporate sector, in general, is faring much better than anticipated with profits rising and default rates declining. The sector is being supported by very accommodative markets to support liquidity, measures implemented to cut costs, and an overall improving economy. Even energy companies that aren't already on the verge of bankruptcy appear to be stabilizing and enjoying growing market access. In the third quarter of 2020 (3Q20), the Bureau of Economic Analysis reported that 3Q20 corporate profits (with inventory valuation and capital consumption adjustments) increased $499.6B in contrast to a decrease of $208.9 billion in the second quarter. Following back-to-back yearly declines of 6.7% in 2020's first quarter and 19.3% in the second quarter, core pretax profits rose by 3.3% yearly in the third quarter. Liquidity, as defined by corporate cash, is near record-high levels.
Cash flows are on the rise, growth of which appears to be record breaking. Admittedly, this is coming off very low levels, but is a positive indicator.
Additionally, Moody's Financial Condition Indicators (FCI: a composite of measures of financial and economic activity) show that financial conditions improved at an accelerated rate at the end of 2020 after stalling in September and October.
While speculative-grade default rates, per Moody's, have risen to 6.7% at the end of 2020 (up from 3.2% at the end of 2019) the latest rate is much lower than what Moody's had forecast in the middle of 2020 when it said that the default rate would be at 9.5%. All-in-all, when compared with previous recessions, the current default cycle has the potential to peak at a lower rate than the rates associated with the last three recessions and will come down much quicker, per Moody's.
Oil & gas had the most defaults for the second consecutive year indicating that the sector was weakening even before COVID-19. However, energy companies that aren't on the brink of default, or have already defaulted, are enjoying market access to shore up their balance sheets and are securing rating upgrades for doing so. The recent growth in oil prices appear to be supportive of the industry.
The most heavily impacted sectors, such as airlines, cruise lines, and major hotel chains have successfully accessed the market and cut expenses to drive liquidity to levels that have the potential to outlast the effects of COVID-19. Some cruise lines, even with zero revenues, have liquidity that could support the company for two years. Airlines, with enplanements still down around 50%, have successfully cut costs, received federal support, and have found ways to enhance liquidity to record levels.
Retailers and retail REITs (real estate investment trusts) have continued to struggle, but even here, there are signs of pent-up demand where traffic, if not hindered by government shutdowns, is near pre-pandemic levels. Liquidity has strengthened. Some of the companies that filed for bankruptcy were already deteriorating before the virus, the pandemic appears to have just sped up the process.
Container shipping rates are at record highs (according to the Harpex index), commodity pricing are at elevated levels, and technology growth is strong driven by increased stay-at-home working, study from home, and gaming.
In conclusion, companies that aren't already near defaulting or bankruptcy continue to enjoy robust market access to support liquidity, which has helped them through the pandemic. The recession is milder than previous ones, and trends appear to be improving. New federal assistance is likely which should stimulate the economy further, while effective vaccines have the potential of putting the crisis behind us.
View Disclosure
CRN: 2021-0205-8933 R
This commentary is for informational purposes only. All investments are subject to risk and past performance is no guarantee of future results. Please see the Disclosures webpage for additional risk information at commentary-disclosures. For additional commentary or financial resources, please visit www.aamlive.com.